Sustainable development
The 2030 Agenda for Sustainable Development
The 2030 Agenda for Sustainable Development adopted by the United Nations in September 2015, provides a framework for the realization of peace, prosperity for people and planet. It also looks at partnerships for achieving sustainable development. 
At the heart of the 2030 Agenda for Sustainable Development are the Sustainable Development Goals (SDGs). The 17 Goals comes as a successor to the Millennium Development Goals, encompassing a holistic approach to the three dimensions of sustainable development – economic, social, environment – and 2 years of negotiations, first in the form of the Open Working Group that developed the proposal for the Goals, and then in the Inter-governmental negotiations, which negotiated the post-2015 development agenda.  
The 2030 Agenda for Sustainable Development, replaced the Commission on Sustainable Development, with the High Level Political Forum on Sustainable Development, as the primary body to followup and review the 2030 Agenda.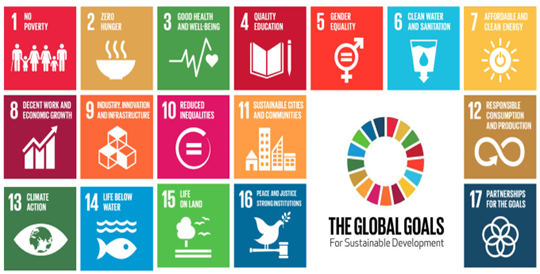 High-Level Political Forum on Sustainable Development (HLPF)

The HLPF has a "central role in overseeing a network of follow-up and review processes at the global level" (2030 Agenda, paragraph 82)
The General Assembly in its resolution 67/290 decided that the Forum meet annually under the auspices of the Economic and Social Council for eight days, including a three-day ministerial segment and every four years at the level of Heads of State and Government under the auspices of the General Assembly for two days. 
As part of its follow-up and review mechanisms, the 2030 Agenda for Sustainable Development encourages Member States to conduct Voluntary National Reviews (VNRs), which aims to facilitate the sharing of experiences, including successes, challenges and lessons learned, with a view to accelerating the implementation of the 2030 Agenda. These national reviews are voluntary and state-led, and takes place during HLPF under the auspices of ECOSOC.

First VNR

Maldives presented its first VNR on 19 July 2017.
This VNR aimed to highlight the efforts of Maldives towards the implementation of the 2030 Agenda for Sustainable Development, planned programmes and the challenges faced as a small island developing State.
It also highlighted that while the Maldives has made substantial progress in sectors such as education, energy and infrastructure, extensive effort needs to be undertaken to consolidate these gains, Maldives expressed hope that the seventeen Goals inspire collaboration and cooperation with the international community and with domestic development partners.

Second VNR

The Maldives presented its second VNR on 19 July 2023.
The Maldives 2023 VNR highlights connectivity – physical and digital – as an accelerator for the realization of the SDGs. In this context, the review highlighted the Integrated National Public Ferry Network project. 
The VNR also focused on the recovery process from the COVID-19 pandemic, and the challenges that remain in this regard, such as the access to international financial mechanisms and concessional financing terms.