11 Apr, 2011 - Ahmed Naseem as Minister of Foreign Affairs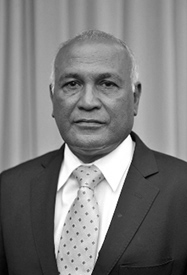 Ahmed Naseem was appointed as Minister of Foreign Affairs on 11 April 2011 to 07 February 2012
A Biographical Note
His Excellency Mr. Ahmed Naseem was born in 1948 and was educated in Colombo at HSC, Wesley College. He obtained two diplomas, one in Diplomatic Studies in Australia and the other a Diploma in Conflict Resolution and Arbitration in Singapore.
Joining government serviceearly 1967, as a Secretary at the Foreign Office, later a Secretary and an Undersecretary at the Ministry of Foreign Affairs and the Ministry of Fisheries respectively, Naseem represented the Maldives at the United Nations and led the Maldives delegation once. He was posted as a First Secretary to the Embassy of Maldives in Washington DC. Later from 1998 to 2005 Naseem served the government as the Director General of Investments at the Foreign Investment Services Bureau. Naseem served the government as the Deputy Minister of Fisheries in the late 1970s.A diplomat by training, Naseem is the author of several articles on liberal democracy, and presently contributes regularly to the independent media in the Maldives.
He served privately in the development and management of the tourism industry of Maldives and introduced up-market tourism to Maldives with the development and opening of first luxury resort.
Naseem joined the Maldivian Democratic Party in 2005 and has represented the party in the United Kingdom, European Union and the United States of America. Naseem also served on the Board of Directors for the Regional Centre for Strategic Studies based in Colombo, Sri Lanka and the Maldives Association of Tourism Industry, MATI.
Naseem was appointed as the Minister of State for Foreign Affairs on 13 November 2008. After serving as the State Minister for more than two years, Naseem was appointed as the Minister of Foreign Affairs on 11 April 2011.
Naseem is married with 1 son and 3 daughters.
ENDS.