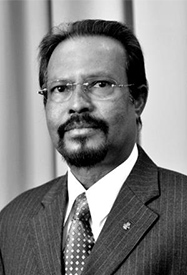 5 Mar, 2012 - Dr. Abdul Samad Abdullah as Minister of Foreign Affairs
Dr. Abdul Samad Abdullah was appointed as Minister of Foreign Affairs on 05 March 2012 to 25 August 2013
A Biographical Note
His Excellency Dr. Abdul Samad Abdullah was born on 10th March 1946. He graduated from Leningrad Medical Institute and attained a Masters Degree in Public Health at the Royal Tropical Medicine Institute in Antwerp, Belgium.
He was a distinguished international public servant with an illustrious career at the WHO. Dr. Samad most recently served as the Coordinator of Communicable Disease Control at the WHO Regional Office in New Delhi. Prior to joining WHO, he served in many posts at the Health Ministry, the last of which was as the Director General of Health Services.
He attended World Health Assembly in Geneva on a number of occasions. He also actively took part in the revision process of International Health Regulations (IHR 2005) and participated in the 3rd Inter-Governmental Working Group leading to the adoption of IHR 2005 in June 2005. Dr. Samad was also a delegate at the SAARC Summit held on 04th November 1987 in Kathmandu, Nepal.
In 2008, Dr. Samad Abdullah joined the Maldives Foreign Service and served as the first High Commissioner of the Republic of Maldives to the Peoples Republic of Bangladesh.
Dr. Samad was appointed as the Minister of Foreign Affairs on 05th March 2012. As the Minister of foreign affairs, Dr. Samad Abdullah played an active role during the challenging times that followed after the power transfer in 7th February 2013, by establishing and strengthening ties with key partners aboard.
He was married with 2 sons and 1 daughter. Dr. Samad passed away on 25th August 2013, in Singapore.